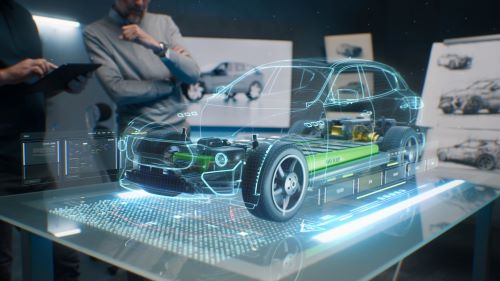 Pairing Complementary Strengths, VicOne and Block Harbor
Poised to Offer Industry's Most Comprehensive Cybersecurity Solution
From Concept, Development to Production for Auto Ecosystem
DALLAS, Texas, and TAIPEI, Taiwan—VicOne, an automotive cybersecurity solutions leader, announced today that it is making a significant strategic financial investment in Block Harbor. For automotive original equipment manufacturers (OEMs) and Tier 1 suppliers, the partnership will facilitate a joint platform integration that stands to deliver the industry's most comprehensive solution for automotive cybersecurity. The integration solution, for example, is intended to provide industry with better tools for addressing ISO/SAE 21434 engineering requirements for cybersecurity risk management regarding Concept, Product Development, Production and Operation of electrical and electronic (E/E) systems in road vehicles, including their components and interfaces.
"As one of the true pioneers of automotive cybersecurity engineering, Block Harbor is widely respected across the global automotive industry as a forward-thinking innovator in the space," said Max Cheng, chief executive officer, VicOne. "While our company is especially well-established in the Production and Operation phase of automotive cybersecurity, Block Harbor is particularly strong on the Concept, Development and Validation side. This partnership is an opportunity to combine our complementary corporate strengths for better outcomes and to open doors for providing a comprehensive automotive cybersecurity solution for addressing ISO/SAE 21434 requirements—through Concept, Development, Production and Operation phases."
Based in the heart of the "Motor City"—Detroit, Michigan—Block Harbor has worked closely with automakers, suppliers and regulators since 2014 on vehicle cybersecurity. Established in the wake of highly publicized automotive exploits, Block Harbor was founded on the basis that the automotive industry's biggest need would be services to support vehicle cybersecurity. The company has earned deep experience and expertise in consulting, design, verification and validation (V&V), and threat analysis and risk assessment (TARA) for clients globally.
Block Harbor is launching the Vehicle Security Engineering Cloud (VSEC) to deliver cybersecurity throughout the vehicle engineering process – from the vehicle to its connected infrastructure. Ranging from competency management to real-time security posture of vehicle systems, the company's solutions are designed to secure vehicles in a structured and repeatable way to meet standards and regulations such as ISO/SAE 21434 and UNECE WP 29. Block Harbor's advanced laboratories around the world showcase both their service capability and cloud-based VSEC platform in action to secure vehicles, their systems and their components and enable real-time feedback to shape research and development.
"VicOne's support will aid in our global expansion to extend our reach across markets and deploy VSEC. We strongly identify with their long-term thinking to secure vehicles and keep mobility safe," said Brandon Barry, chief executive officer, Block Harbor. "This is a meaningful investment that again demonstrates VicOne's strong commitment to and keen strategic vision for the global automotive industry. Furthermore, with this agreement between two stable, highly credible leaders in automotive cybersecurity, it's a clear signal to automakers and suppliers that they have viable, long-term partners they can depend on throughout the evolution of the world's vehicles."
About VicOne
With a vision to secure the vehicles of tomorrow, VicOne delivers a broad portfolio of cybersecurity software and services for the automotive industry. Purpose-built to address the rigorous needs of automotive manufacturers, VicOne solutions are designed to secure and scale with the specialized demands of the modern vehicle. As a Trend Micro subsidiary, VicOne is powered by a solid foundation in cybersecurity drawn from Trend Micro's 30+ years in the industry, delivering unparalleled automotive protection and deep security insights that enable our customers to build secure as well as smart vehicles. For more information, visit vicone.com.